Italian Sausage Pipe Rigate
Maysara Winery
Pair this with Maysara's 2017 Three Degrees, or 2013 or 2014 Cyrus.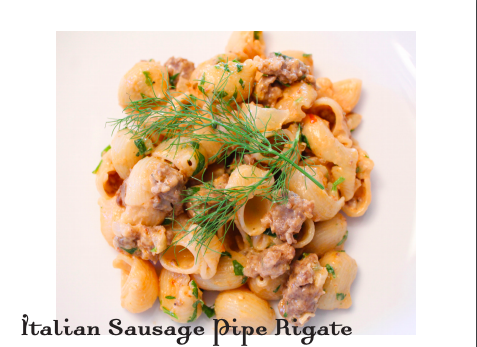 40 minutes start-to-finish, serves 4
Ingredients
1 lb pasta (we used pipe rigate),
3 cups fennel chopped
1 1/2 cups yellow onion chopped
1 1/4 lb ground sausage
2 tsp garlic minced
1 cup white wine
crushed red pepper flakes to taste
1/2 tsp fennel seed
1 cup heavy cream
2/3 cup half and half
1/4 cup fresh parsley chopped
Parmesan for garnish
Instructions
Cook pasta in salted water to al dente (consult box for timing).

In a non-stick skillet, sauté the fennel and onion in olive oil until translucent (about 7 minutes). Add sausage, breaking apart and browning for 7 – 8 minutes. Add garlic, white wine, crushed red pepper flakes, and fennel seed. Salt and pepper to taste.

Bring to a boil. Add heavy cream and half and half and reduce heat to a simmer for 15 – 20 minutes.

Add pasta to the sauce and garnish with fresh parsley and parmesan.