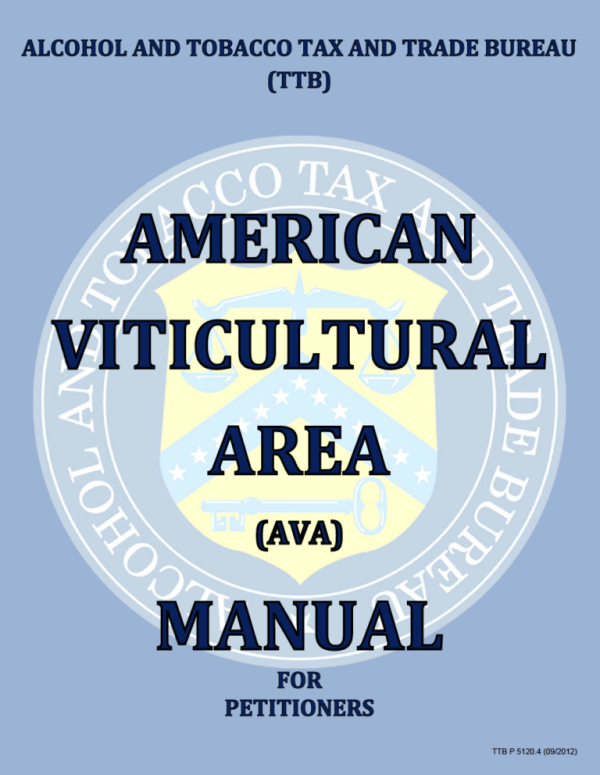 This post was updated on June 29, 2022.
With discussion aplenty in the Willamette Valley surrounding labeling, AVAs (American Viticultural Areas) and newly minted Willamette Valley regions (Lower Long Tom was established in November 2021 and Mount Pisgah, Polk County, Oregon was established in June 2022), it's understandable for consumers and members of the trade to have questions about the process of petitioning and finalizing a new appellation in the United States.
FOR STARTERS, A FEW DEFINITIONS:
Under Alcohol and Tobacco Tax and Trade Bureau (TTB) regulations, an AVA is a defined grape-growing region having certain distinguishing features . An AVA is meant to provide the public with accurate information about a wine's origin.
A petition is a written request for rule making to establish a new AVA or to modify an existing AVA, signed by the petitioner or an authorized agent of the petitioner, and submitted in accordance with TTB regulations. Petitions need to include information such as an explanation of the historical significance of a proposed name and boundaries; evidence of characteristics that distinguish the proposed area from the area around it from a viticultural perspective; and a detailed map of the proposed AVA (see TTB's guide to proposing an AVA here). Any individual may submit a petition.
A perfected petition is a petition that meets all the requirements of TTB and contains sufficient evidence for TTB to decide whether to proceed with rulemaking to establish a new AVA or change an existing AVA. A list of current perfected petitions, including any in Oregon, can be found here.
An NPRM (Notice of Proposed Rulemaking) is a narrative document that describes the proposed AVA or proposed change to an AVA according to its petition, and invites the public to comment on it.
Recently approved Oregon AVAs Lower Long Tom, Laurelwood District, and Tualatin Hills are what we call nested AVAs—that is, they fall within the existing boundaries of another AVA, the Willamette Valley. When a new nested AVA is petitioned, in addition to meeting all new AVA requirements the petitioner must also explain how the proposed AVA is consistent with the existing larger AVA (if it isn't, that would potentially argue for the larger AVA to be modified to exclude this area) but sufficiently distinct to justify creating a new nested AVA.
The process of petitioning for a new AVA often takes several years from start to finish. Here is a timeline of every step, with a description from TTB's AVA Petition Manual.
THE AVA PROCESS: STEP 1
A petitioner submits a petition to the AVA section of TTB's Regulations and Rulings Division.
THE AVA PROCESS: STEP 2
TTB performs an initial review of the petition to determine whether it is perfected (whether it contains all required information such as name history, distinguishing features, a boundary description, and USGS maps).
If the petition is missing any of these elements, TTB will return it for correction.
THE AVA PROCESS: STEP 3
After a petition is perfected, TTB will further review the petition to determine whether to proceed with drafting a notice of proposed rulemaking (see Step 4), or not. If TTB decides not to proceed, they provide the petitioner with their reasoning and the petitioner has the opportunity to  submit a revised petition.
THE AVA PROCESS: STEP 4
The TTB drafts a NPRM (Notice of Proposed Rulemaking), which is a narrative document that describes the proposed AVA or proposed change to an AVA and invites the public to comment on it for a period that normally lasts 60 days. The NPRM is reviewed and approved within TTB, then published in the Federal Register. View notices open for comment here.
THE AVA PROCESS: STEP 5
After the close of the public comment period (normally 60 days after publication), TTB reviews the petition in the light of the comments received.
THE AVA PROCESS: STEP 6
If comments raise significant concern regarding the proposed AVA, TTB will take those comments into consideration when deciding whether to proceed to a final rule. If the comments raise relevant new issues that are appropriate for public comment, TTB may also decide to reopen the comment period.
THE AVA PROCESS: STEP 7
Four outcomes are possible based on the reassessment of the proposal after public comment. TTB may:
(1) Prepare a final rule document that adopts the proposed AVA, with or without changes to it. This document requires the review and approval of TTB and Treasury officials. If the final rule receives all necessary approvals, the document will be published in the Federal Register.
(2) Publish a notice in the Federal Register withdrawing the proposal and explaining the reasons for the withdrawal.
(3) Publish a new NPRM in the Federal Register requesting public comment on a modified AVA proposal.
(4) Any other action that TTB deems appropriate, including reopening the public comment period for additional public review of and comments on the proposal.
To learn more about TTB and the process of petitioning a new AVA, consult their AVA Petition Manual.