Sangria Pie
Sokol Blosser
Oh me, oh my—it's a sangria pie! We used Evolution Big Time Red for this recipe.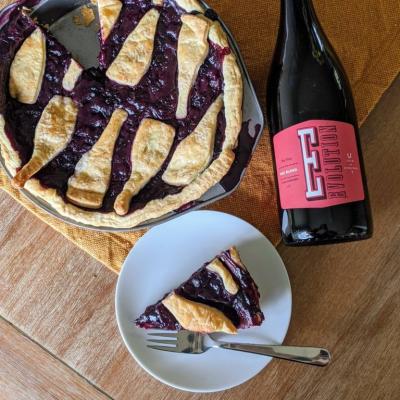 Ingredients
2 uncooked pie crusts of your choice
3 cups pitted cherries
3 cups blueberries
3/4 cup red wine (Evolution Big Time Red is what we used!)
1/4 cup cornstarch
1 cup white sugar
1/4 tsp cinnamon
1/8 tsp nutmeg
1/8 tsp clove
zest of half an orange
3 tbsp lemon juice
Instructions
Preheat your oven to 450F.

Line your pie plate with one of your crusts and prick the bottle of the crust with a fork.

In a large sauce pan, add the cherries, blueberries, wine, cornstarch, sugar, spices, and orange zest. Bring to a boil and simmer for 5-10 minutes until thickened.

Pour the filling into the pie crust, use the second pie crust to decorate the top.

Bake at 450F for 15 minutes, then reduce the heat to 350F and bake for another 40-50 minutes until the crust is golden brown. Let rest for at least one hour or overnight then serve!