Sopa de Feijão (Portuguese White Bean Soup, Coelho Winery)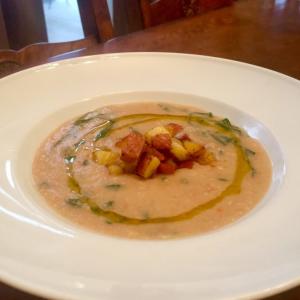 Now that the weather is turning colder and our thoughts are turning to hearty red wine, there's nothing much better on a cold night than bean soup. Here's a fresh take on a classic Portuguese bean soup that will pair well with any of our red wines.
Pairing: Coelho Winery Tradição Portuguese Red Blend

Ingredients
olive oil
1 small yellow onion diced
1 small carrot diced
1 stalk celery
4 cloves garlic minced
2 bay leaves
1/2 tsp ground fennel seed
2 15.5 oz cans white beans drained
2 cups chicken stock
salt and pepper to taste
Garnish
1 5- to 6-ounce stick linguiça quartered and diced
1 yellow potato diced medium
2 collard leaves destemmed, rolled, and finely slivered
Instructions
Over high flame, heat a heavy-bottomed pan large enough to make a pot of soup. Film it with olive oil and cook the vegetables, garlic, bay leaves, and fennel seed until the onions start to go translucent, about five minutes. Add the white beans and chicken stock and simmer for 20-30 minutes, until the vegetables are soft.

Remove the bay leaves and smooth the soup with an immersion blender (or blend it in a blender and return it to the pot). Thin the soup as necessary with more stock or water and season to taste.

For the garnish, film a sauté pan with a little olive oil and cook the linguiça. Remove the linguiça from the pan and cook the potato in the linguiça oil, browning nicely. Pour off some of the colored oil for garnish, then add the linguica, potato, and collards to the soup and simmer until the collards are bright green and just done. Portion into soup bowls and drizzle with the reserved linguiça oil. Serves four as an appetizer or two as a main course with crusty bread.