Left Coast Cellars Harvest Crew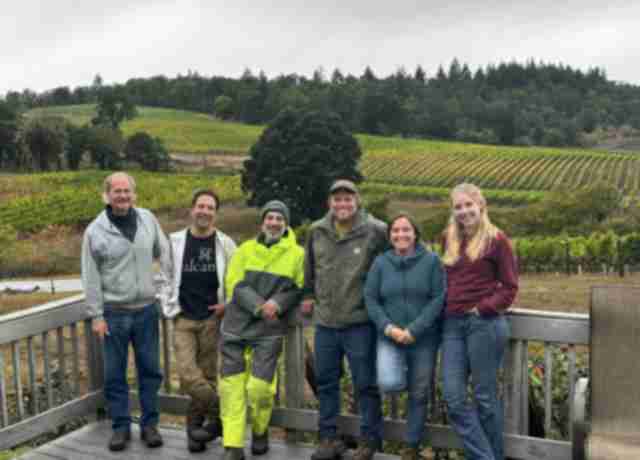 Left Coast Cellars Harvest Crew
LEARN MORE ABOUT LEFT COAST ESTATE
---
KEN COOK, JP VALOT, BEN HOLLAND, JOE WRIGHT, GABRIELA SUPULVEDA VIGNES, MELISSA GROSS
---
Q. ARE YOU DOING ANYTHING NEW IN THE CELLAR THIS YEAR?
Grenache, from the Threemile Vineyard up in the Columbia Gorge
Q. WHERE ARE YOUR HARVEST INTERNS FROM THIS YEAR?
We've got the most experienced team we've ever had. Everyone has pretty extensive prior harvest experience and collectively we have 126 vintages of experience. Nationality wise we've got an Argentinian, a Puerto Rican and an American turned Kiwi. We also have a Chilean who is not an intern, but wanted to make sure Chile was represented in the Left Coast census.
Q. WHAT MUSIC IS PLAYING IN THE CELLAR RIGHT NOW?
We like a pretty wide variety. There will be some 80s rock from Latin America, Kevin Morby, ACDC, some Australian island rock and Lisa Ono.
Q. HOW DOES YOUR TEAM DE-STRESS DURING HARVEST?
We love when those first bins come in just full of beautiful, clean fruit.The first aromatics of fermenting fruit filling the winery. The first taste of Pinot Noir fresh off the press into the glass. Also the last bin of fruit > the last press > harvest party.
Q. DO YOU HAVE ANY HARVEST SUPERSTITIONS?
Never say it can't get any worse.
Q. HOW ARE YOU LIKING THE 2023 VINTAGE?
We'll find out in the coming weeks, but the vintage has a great foundation with some beautiful fruit hanging out there.
Q. WHAT'S YOUR FAVORITE HARVEST SNACK?
Salty, crunchy things. May include but is not limited to: Funyuns, jalapeño corn nuts, pistachios, Halloween candy, salt and vinegar chips.
Q. WHAT IS YOUR HARVEST ATTIRE OF CHOICE?
Redback boots paired with anything dry and warm. (Rain gear with knee pads, hoodies, jeans, vests, high vis)