#WVHARVEST2021 is under way!
Check out our annual harvest reports from every corner of the valley!
Watch this space for forthcoming updates and follow the latest harvest tag on instagram. Browse reports from previous vintages below.
---
2021 HARVEST REPORTS
---
BERGSTRÖM WINES, 11/2/21
"The miracle of 2021, now widely being hailed by many friends and colleagues across the valley as potentially the vintage of their careers, is that the heat dissipated around the first of September, and cool nights returned to the valley. For an entire month, we experienced a classic Willamette Valley, cool-climate fall season. This allowed the grapes to ripen at a slow pace, keeping their natural acids high while maintaining perfectly balanced sugars. In short, this devilish beast of a hot year has yielded pretty wines of grace and silky supple textures with bright and freshly fruited, floral bouquets. I cannot wait to share them with the world once they have matured."  – Josh Bergström
BERGSTRÖM WINES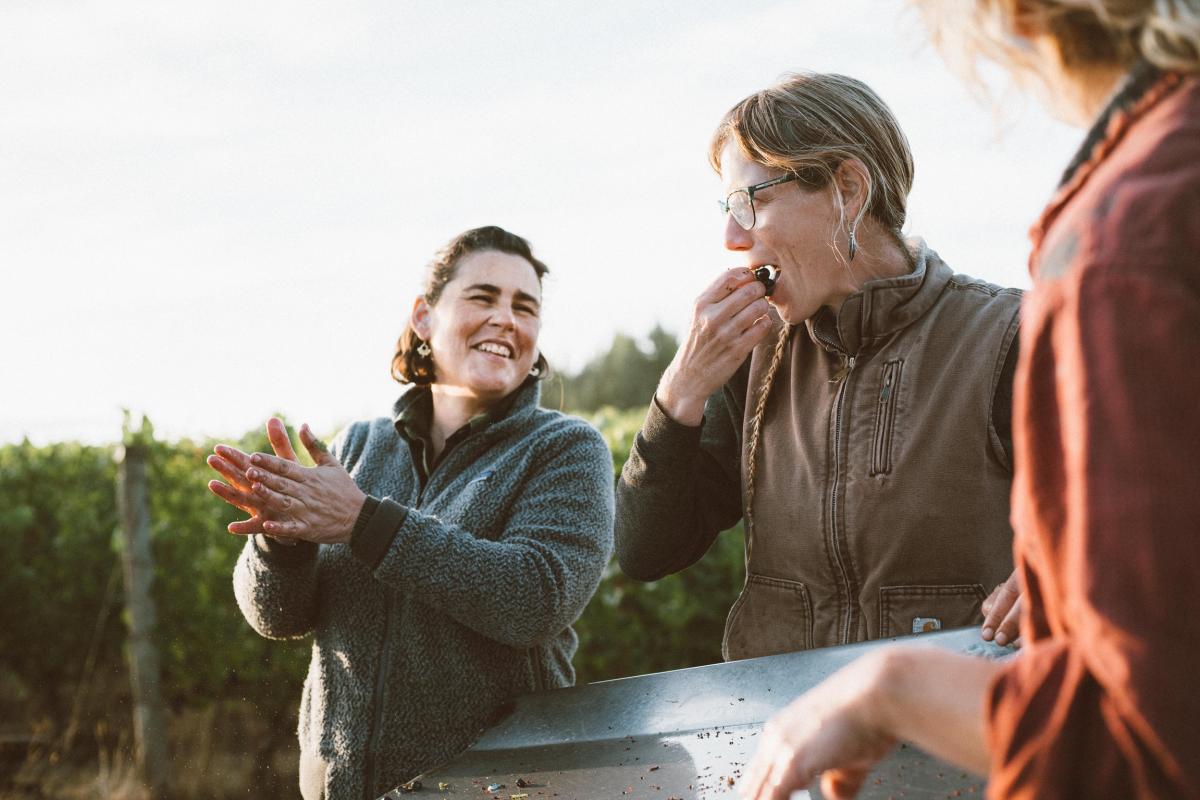 SOKOL BLOSSER 2021 HARVEST UPDATE, 9/23/21
"Harvest began August 30th and marked not only the start of our 2021 vintage, but the first vintage of our very own Pellenc machine harvester! This modern marvel helped us to pick Pinot Noir from our Concert South Block to make our Bluebird Cuvée Brut Sparkling. By day two, the team had a feel for the machine harvester and successfully brought in 10 tons of Müller-Thurgau from our Betty Block (great work to Antonio, Jorge, Omar, and our very own Bill Blosser!).
On September 4th we received beautiful Chardonnay grapes from Knudsen Vineyard which were pressed to make our 2021 Knudsen Vineyard Blanc de Blanc! Our Associate Winemaker, Robin, said the juice out of the press was tasting amazing, and we all can't wait to try the bubbles in a few years.
The first of our grapes for Rosé of Pinot Noir were picked on September 6th and 7th, and even though we saw some abnormally warm days, we have been able to keep on picking thanks to our fantastic (though sometimes finicky) Pellenc! Our winemaker, Alex, has been thrilled with his new toy and his dog, Gus has even been captivated.
This year we brought in our first harvest of Chardonnay form our new La Joya Block. It was not much, a little under one ton from 3.8 acres. What makes our La Joya Block so special is that it is named after the hometown of our Vineyard Manager, Manuel "Luis" Hernandez. Luis has been with us since 1987 and what a ride it has been! Although we haven't had the pleasure of seeing the namesake town with our own eyes, Luis shares its beauty with us through his stories. We will do our best to make this Chardonnay live up to the special name that will one day grace its label.
Between pressing fruit and managing ferments, our intern team is also working as skilled gopher snake rescuers. We love our scaly friends as they munch on the gophers that would otherwise be munching on our vines. The snakes just love to sun themselves on the pavement around the winery, so our brave interns scoop them up and return them to the vineyard where they are safe from tractors and forklifts!"  – Sokol Blosser team
SOKOL BLOSSER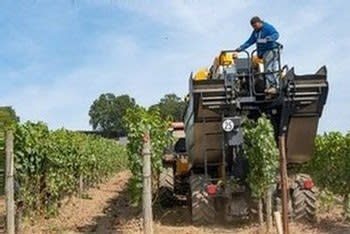 THE EYRIE VINEYARDS 2021 HARVEST UPDATE, 9/20/21
"After the rain. We are at about 70% of the pick in, and just had a weekend of glorious rain. There's a beautiful stretch of ripening weather ahead for the last picks of Pinot noir and Pinot Meunier of 2021. This vintage is shaping up to be of historic quality, even if the quantity is down (about 30% for us)."  – Winemaker Jason Lett
THE EYRIE VINEYARDS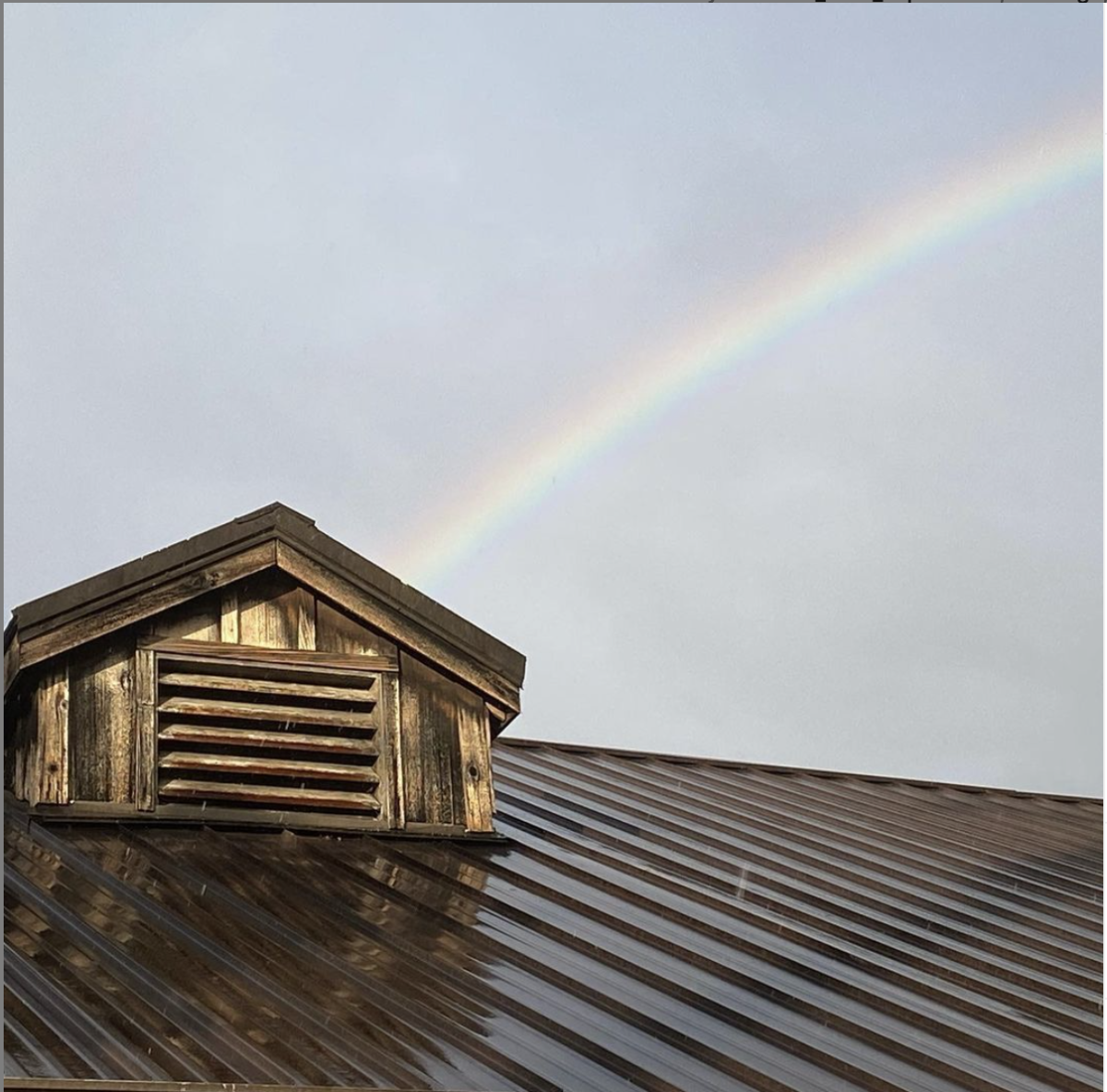 ADELSHEIM 2021 HARVEST UPDATE, 9/20/21
"Harvest 2021 is in full swing and spirits are through the roof! After a challenging 2020 harvest, our vineyard and winemaking teams are filled with joy to be in the vineyards and cellar again doing what they love. This year's harvest seems to be flying by, so we wanted to give you an update before the most exciting time of the year is over.
So much work has gone into getting us to these moments, and yet it takes an enormous amount of work to get us across the finish line.   Every season is unique but similar in so many ways, and it is the people that bring the comforting and energetically familiar feeling back each harvest season.
Kelli and her team began pruning the vines in January, preparing the vineyards for the growing season. Throughout the growing season, many jobs are done to maintain healthy vineyards and grow premium wine grapes. Shoot thinning, wire raising, vineyard floor management, shoot positioning, hedging, suckering, leaf removal, and fruit thinning are all essential activities in our vineyards and prepare us for a successful harvest season. And what a successful season it's been!
Our 2021 harvest season kicked off on August 28th when we began picking grapes for our sparkling wines. Since then, it's been all hands on deck. In the last three weeks, our team has completely picked through six of our vineyards!
Chardonnay and Pinot noir from throughout the Chehalem Mountains has been brought into the winery for processing. The final days of picking fruit are approaching, and the proverbial torch is being passed to our winemaking team! 
As fruit is being brought in, Gina and her team begin processing by unloading bins of grapes onto a sorting table to separate the fruit from any unwanted materials such as leaves, stems and any imperfect clusters. This is only the beginning of the winemaking process, but so far, Gina is very pleased with the fruit she sees and eager to get these wines into your glass. 

'The crop is looking great this year and it's got a lot to do with all of these hard working people out in our vineyards. They are amazing! Also, can I just say how great it feels to be making wine again? I'm gonna say it: it's great. We all missed it.'" – Vineyard Manager Kelli Gregory, Winemaker Gina Hennen, and team
ADELSHEIM
VAN DUZER VINEYARDS 2021 HARVEST UPDATE, 9/17/21
"We're in the thick of it right now getting as much off as we can before the rains hit this weekend. Not a big issue though with the rains, it's just that some of this stuff is definitely ripe so we wanna get it off before it gets wet. If it does get wet it'll just plump it up a little more, so we wait a day or two and then finish it off. Today we are picking Pinot Gris… very, very beautiful fruit coming off today with Pinot Gris, we already picked a block of Chardonnay, we've got Pinot noir. So we're still in the middle of it, looking forward to getting 'er done! " – Vineyard Manager Bruce Sonnon (watch the video!)
VAN DUZER VINEYARDS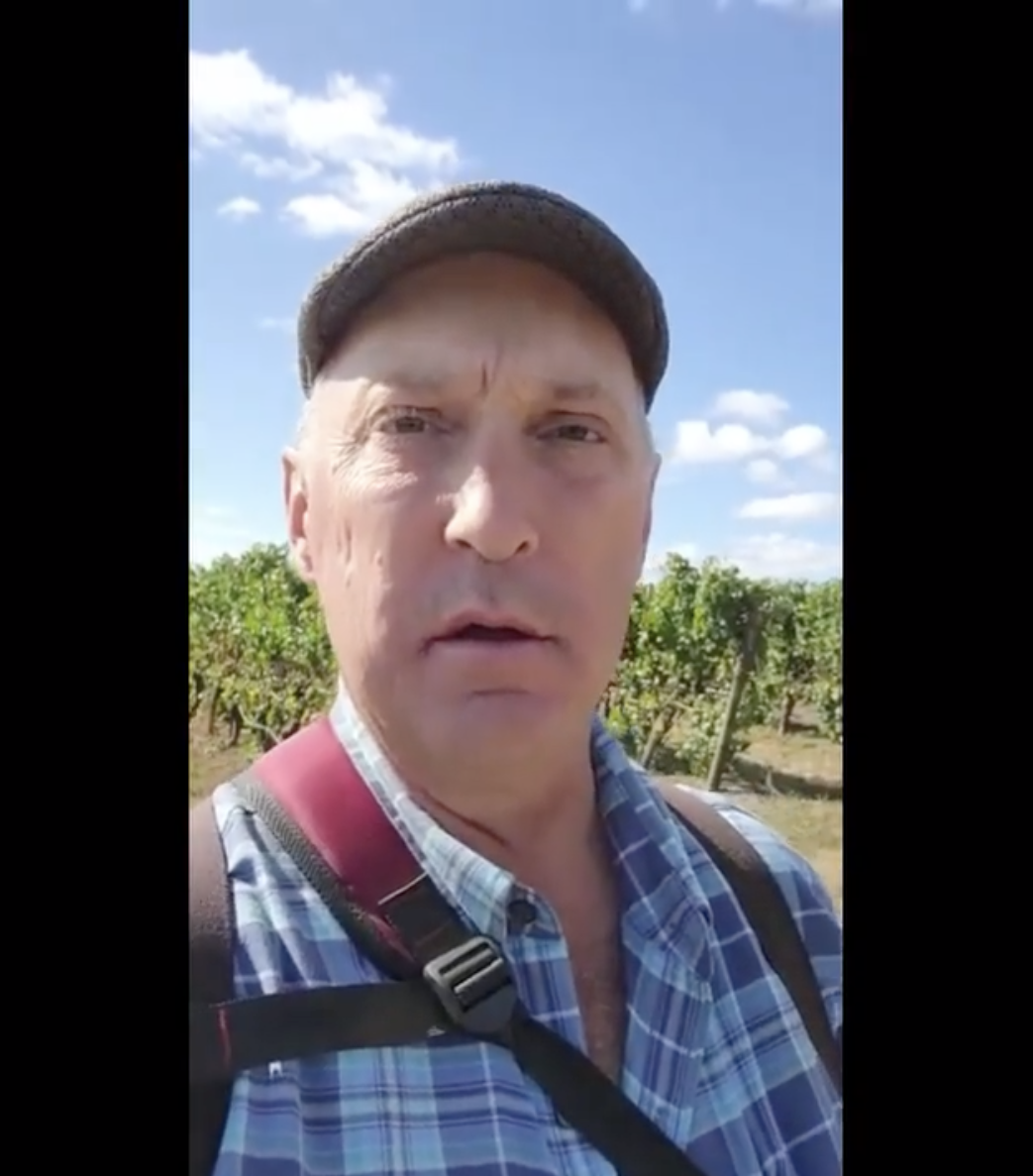 WINDERLEA 2021 HARVEST UPDATE, 9/16/21
"Greetings from the midst of Harvest 2021. I am happy to report that the Winderlea Vineyard and Worden Hill Vineyard Pinot noir and Chardonnay are all in the house as of yesterday. In fact, I've attached a video of my fermenting Imprint Pinot noir which I make in our little "winerette" underneath the tasting room. Today, we are starting harvest on the Meredith Mitchell Vineyard in McMinnville. More later. Off to pick that Pinot blanc..." – Winegrower Bill Sweat
ADELSHEIM 2021 HARVEST UPDATE, 9/14/21
"Just a quick harvest update: The picking crews we have this year have been incredible and continue to show up every morning with unusual levels of energy.
Sometimes I just stand back for a second and admire how well of an orchestration the wine grape harvest is. There is a lot to watch in just a few short seconds. Our crew knows where they need to be, they anticipate what is coming next & prepare for it ahead of time.  The whole thing just flows with such grace.  Tractor drivers are getting empty bins staged where they need to be, foreman are labeling bins & making sure the harvest crew are where they are supposed to be.  The pickers run full speed out of the vineyard rows, dumping their buckets and anxiously waiting for their harvest card to get punched before they sprint back into the vineyard  to start filling their buckets again.  Our crew stands guard over the bins, acting as the first line of quality control before the fruit gets to the winery, removing leaves and any fruit that does not look ideal.   Meanwhile, the tractor drivers are picking up full bins and transporting them back to the truck for an anticipated delivery to the winery.  This teamwork starts before sunrise and doesn't stop until the fruit is delivered to it's new home, and then we do it all over again and again and again.
It is fascinating to see how many grapes just keep pouring in, bucket by bucket & bin by bin, as we check blocks off the harvest schedule as complete. So much work has gone into getting us to these moments, and yet it takes an enormous amount of work to get us across the finish line.   Every season is unique but similar in so many ways, and it is the people that bring the comforting and energetically familiar feeling back each harvest season.  There is definitely a  feeling of harvest-and it's a damn good feeling!
The amazing people who show up and farm our vineyards have been doing incredible work for us.  We are zipping through harvest, with some of the biggest days ahead of us & spirits are definitely high as we continue to deliver some really beautiful grapes to the winery.  We know Gina and her team will take it from there and continue the great work in order to make some incredible wines from this vintage." – Vineyard Manager Kelli Gregory
ADELSHEIM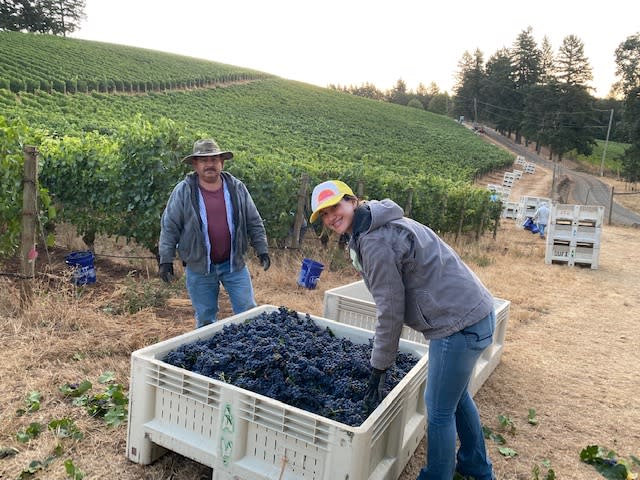 ANACRÉON WINERY 2021 HARVEST UPDATE, 9/8/21
"The Pinot Noir harvest is in full swing! Our Belle Colline Vineyard, a low elevation and warm site, is giving us beautiful 2021 fruit. We are so grateful for gorgeous picking conditions and our hard-working crew!!"
ANACRÉON WINERY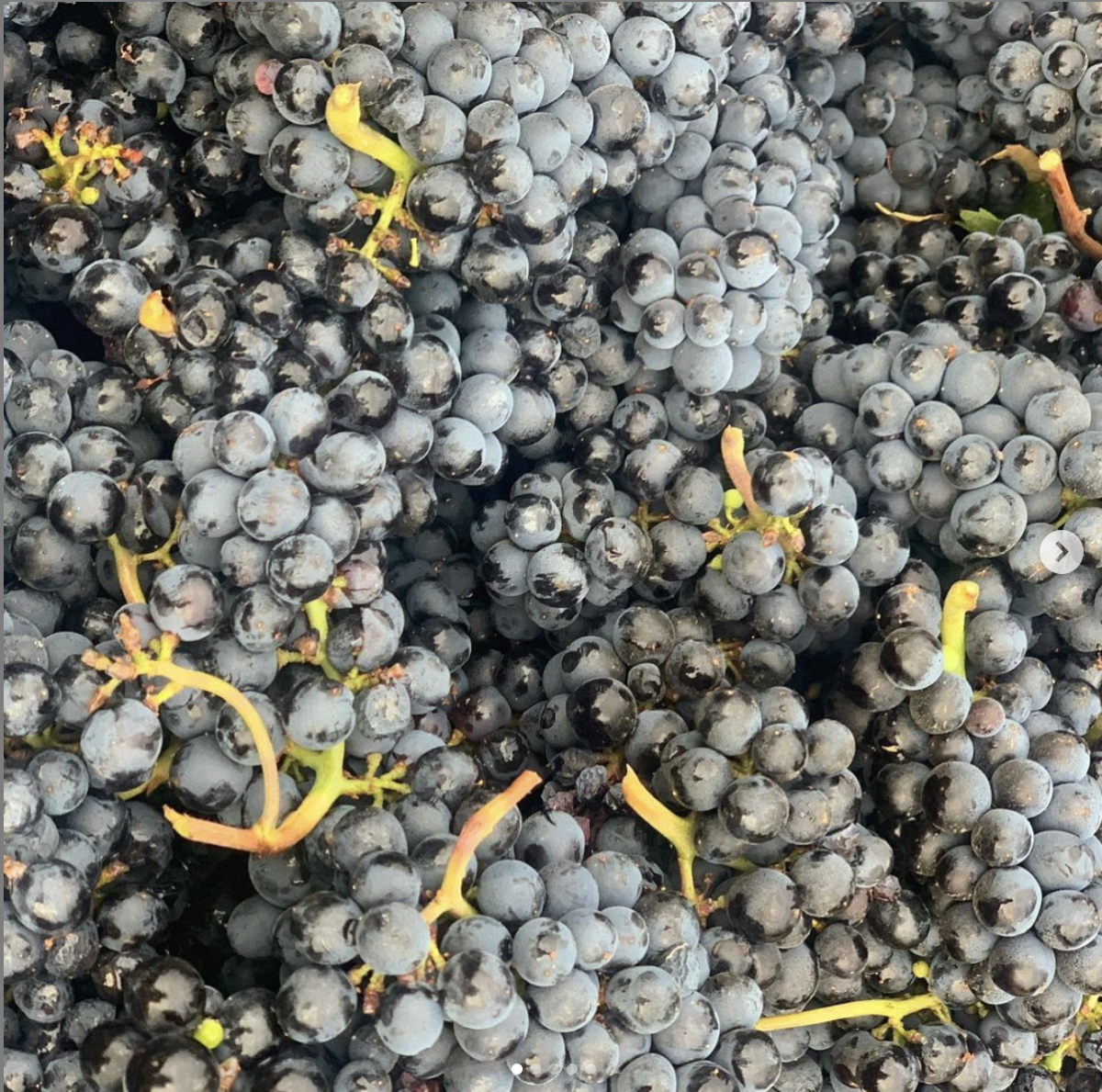 KING ESTATE 2021 HARVEST UPDATE, 9/8/21
"And so it begins...
Today we welcomed & toasted our first fruit of the year with a celebratory — safely distanced & masked — harvest team! A few tons of pinot noir from @ninebarkvineyard in Gaston, OR.
Our 2021 harvest team is ready to take on the season — the pinnacle of the year in Oregon wine country.
"This is an exciting time; we've really been looking forward to it. We have a lot of veteran crew members, so we're set up really well in terms of people. It's shaping up to be an excellent year & we're just getting started." – Winemaker Brent Stone
KING ESTATE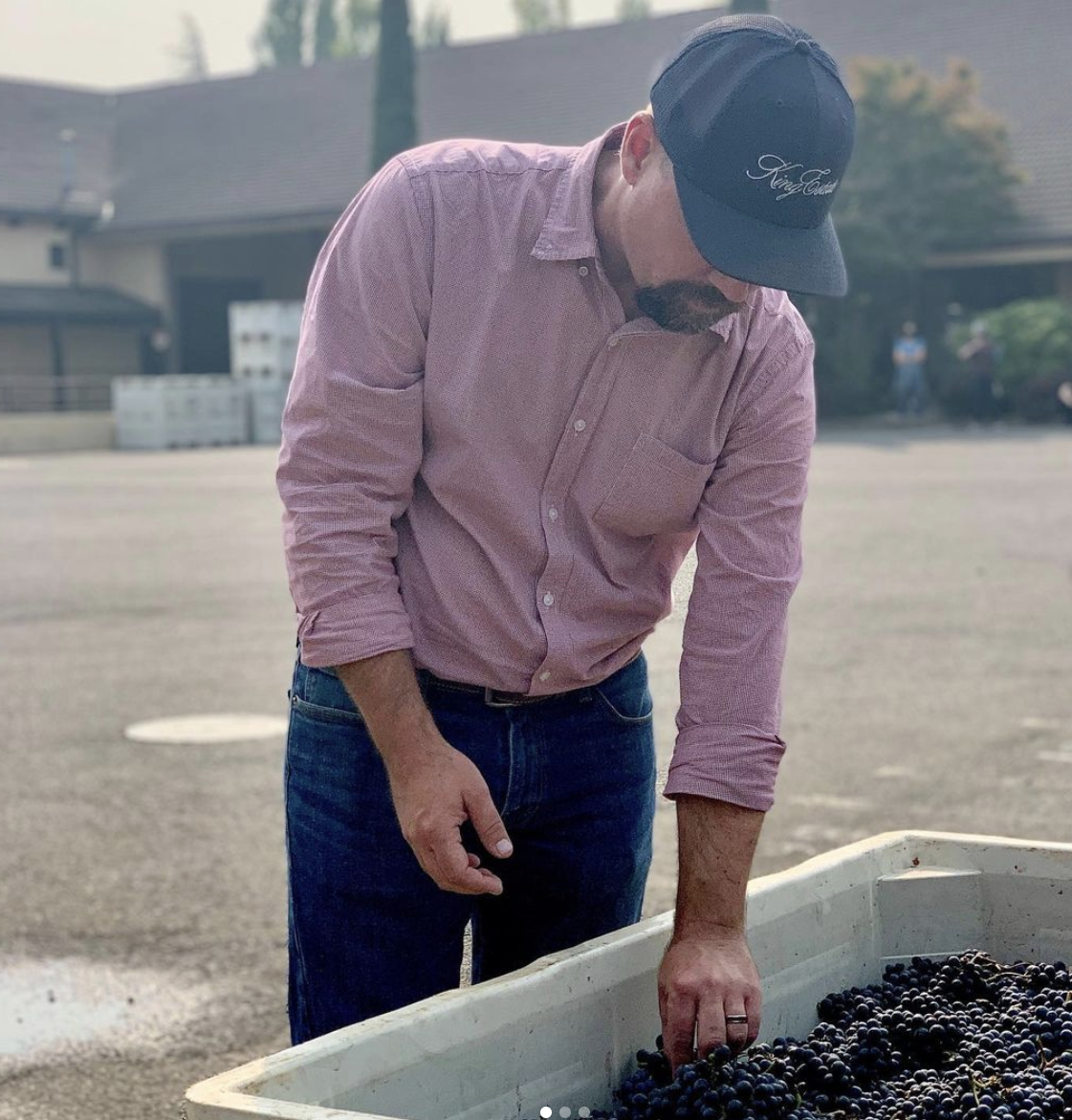 RAPTOR RIDGE WINERY 2021 HARVEST UPDATE, 9/7/21
"I was a little surprised by how good the Grüner Veltliner was tasting in the vineyard, as it typically is some of our last fruit to harvest, usually early to mid October. With rains right at bloom, our crop load was significantly affected. The left cluster represents what a normal cluster looks like, with the right cluster exemplifying shot berries and reduced crop set from the rain. We are loving the flavors and the white pepper that we are seeing this year. Today we picked the top half of the block." – Winemaker Shannon Gustafson
RAPTOR RIDGE WINERY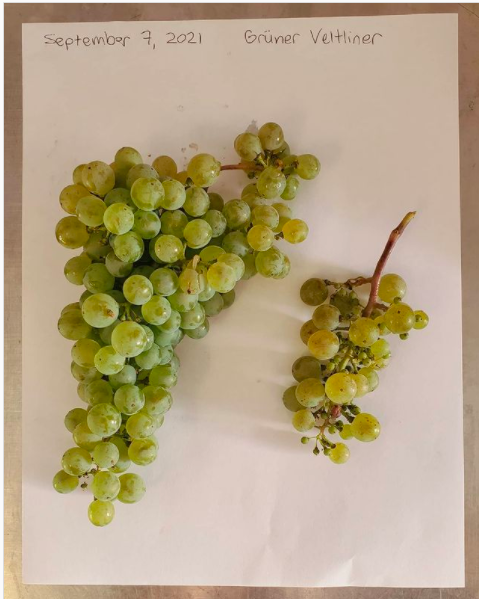 ADDITIONAL BLOGS