DOMAINE NICOLAS-JAY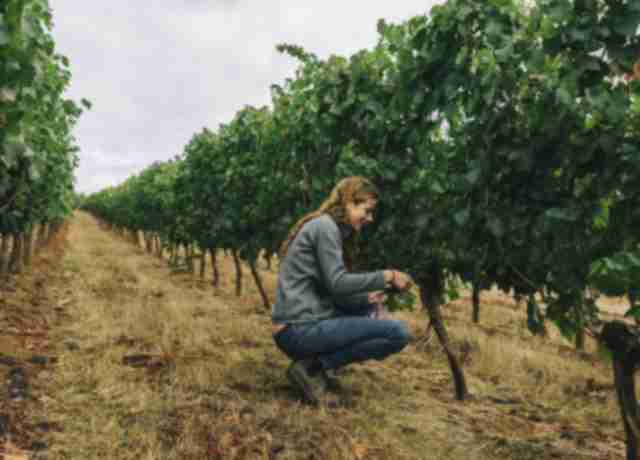 DOMAINE NICOLAS-JAY
LEARN MORE ABOUT DOMAINE NICOLAS-JAY
---
TRACY KENDALL
ASSOCIATE WINEMAKER
---
Q. WHAT'S YOUR FAVORITE BEVERAGE TO DRINK DURING HARVEST?
A. Beer, beer and more beer. In all seriousness beer does become quite a staple during harvest. While normally I'm a fan of super hoppy Northwest IPAs, I find harvest requires a lighter more refreshing ale, something you can drink and finish before you fall asleep after a long day. And two key words: Shower Beer. There isn't a lot of time after a day of harvesting so killing two birds with one stone makes for a nice ending!
Q. WHAT IS YOUR HARVEST ATTIRE?
A. Lots of layers and anything that keeps me dry. Boots, jeans, a past harvest tee shirt, hoodie, vest (every Oregon winemaker's uniform), and a big rain jacket to top it off. Winemaking during harvest is mostly cleaning and you can't be afraid to get wet, so good boots are a must!
Q. WHAT ARE YOUR GO-TO HARVEST SNACKS?
A. Goldfish. The perfect snack for 4 year olds and harvest workers — small, portable, a perfect beer pairing and salty.
Q. WHAT WOULD YOUR ADVICE BE FOR A WINEMAKER GOING INTO THEIR FIRST HARVEST?
A. Learn as much as you can. Be the first one there and the last to leave. Keep your eyes open, listen, pay attention and ask lots of questions. It you're destined to become a winemaker there won't be anything quite as exciting or wonderful as your first vintage — that's when you either catch the winemaking bug or decide you don't want to clean for a living. There's nothing quite like it. Oh, and make sure you smell a new barrel being filled with Pinot noir for the first time, quite possibly the best smell in the world.
Q. WHAT IS YOUR FAVORITE PART ABOUT WORKING IN THIS INDUSTRY?
A. I know it's cliché, but the community. This industry is filled with some of the most incredibly passionate and dynamic people I've ever known. Everyone comes with a different background and interesting story and chooses to make winemaking their path. Although you won't make a ton of money making wine you'll feel as though you won the lottery — beautiful wines, amazing scenery, fantastic food and incredible people.