Dungeness Crab Lemon Cream Gemelli (Seufert Winery)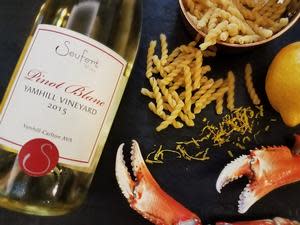 It's crab season and this year is proving to be a plentiful lot. We are receiving fresh beautifully-sized crab at local stores. We picked up some perfect crabs from our local seafood store. Citrus is in season and its easy to find large fresh lemons anywhere. This pairing is bright, light and delicious. The Pinot blanc offers a tongue cleanse that thickens on the back palate. It's such a fun juxtaposition to the bright crab and lemon that it's one of our favorite pairings to date. Modify the recipe as you like; if you prefer a brighter lemon presence add more juice and zest with your garnish and turn it into a topping. If you like a thicker sauce adding a bit of additional cream, about 1/4 cup, can add a nice texture. But you don't want it too heavy because the bright light sauce lets the crab and citrus shine. You could use another pasta other than Gemelli but we found it is a great size and its ridges hold some of the sauce and shallots in place so that you get a good ratio of all ingredients at each bite. We are happy to share this local seasonal recipe with you and we hope you will enjoy it as much as we do!
Pairing: Seufert Pinot blanc
Learn more about Seufert Winery.
Yield: Serves 4 as a main course
Ingredients
2 large shallots
2 lemons
1/4 pound crab
1 pound dried Gemelli
3 tablespoons unsalted butter
3/4 cup heavy cream
Instructions
Finely chop shallots.

Finely grate lemon zest to measure 1 1/2 teaspoons. Juice lemons to measure 3 tablespoons.

Fill a 6-quart pasta pot three fourths full with salted water and bring to a boil.

In a deep 12-inch heavy skillet cook shallots in butter with salt and pepper to taste over moderate low heat, stirring, until soft, about 5 minutes.

Stir in cream and zest and simmer, stirring occasionally, until slightly thickened, about 10 minutes.

Stir in 2 tablespoons lemon juice and remove skillet from heat.

Cook pasta in boiling water, stirring occasionally, until al dente.

Drain pasta in a colander and add to sauce with crab and remaining tablespoon lemon juice, and salt and pepper to taste. Heat mixture over low heat, gently tossing (and add a small amount of warm water if mixture becomes dry), until just heated through.

Serve pasta garnished with crab and lemon zest.