Chef Henry Kibit's Lamb Meatballs with Harissa Sauce (Sokol Blosser)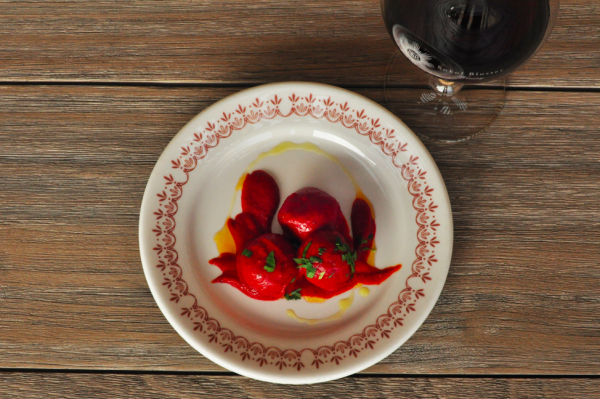 These flavorful meatballs are the epitome of comfort food, paired perfectly with the bold flavors of our pinot noir – black cherry, licorice and blackberry – balanced by smooth tannins.
Pairing: Sokol Blosser 2014 Big Tree Block Estate Pinot Noir
Learn more about Sokol Blosser.
Ingredients
Lamb Meatballs
1 pound ground lamb
½ yellow onion small dice
1 carrot small dice
1 garlic clove minced
½ cup bread crumbs
2 tablespoons parsley minced
1 tablespoon vinegar sherry or red wine
1 egg
3 tablespoons Extra Virgin Olive Oil
Salt & pepper to taste
Harissa Sauce
1 cup Guajillos chile toasted and seeded
½ cup carrots medium dice, cooked
½ cup beets medium dice, cooked
½ tablespoon cumin seed toasted
½ tablespoon coriander seed toasted
¼ tablespoon caraway seed toasted
1 garlic clove
2 tablespoons Extra Virgin Olive Oil
1 teaspoon salt
Instructions
Harissa Sauce
Puree all ingredients in a blender until smooth. Adjust seasonings as necessary.
Lamb Meatballs
Preheat oven to 300°. In a small pot saute the onion, carrot and garlic over medium-low heat about 6 minutes until tender. Cool completely.

In a medium sized mixing bowl, mix the lamb and remaining ingredients with your hands until the mixture starts to become a little sticky.

Take a small amount of the meatball mixture and saute on medium heat until cooked. About 2-3 minutes. This is just to taste for seasoning. Adjust salt/pepper/vinegar as necessary.

Portion into 16 equal sized balls. Over medium heat in a large saute pan, brown the balls evenly in two batches. Be gentle, the balls will be fragile, but will firm up after cooking.

Place the balls and all of the sauce in an oven proof pan (approximately 8"x10") and cover with foil.

Cook for about 40 minutes or until cooked through.

Serve with black rice or in a pita as a sandwich. Makes four servings.