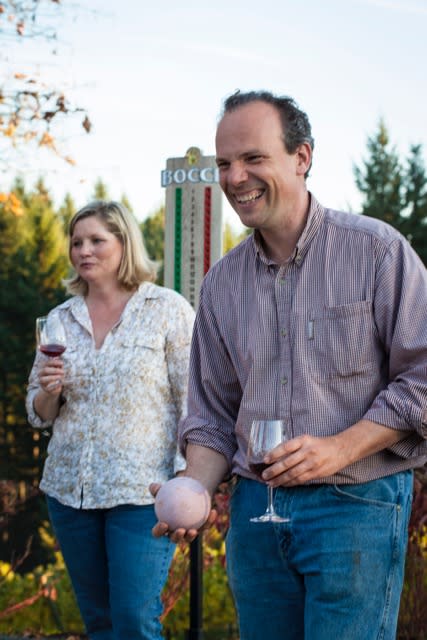 Everyone wants to get outside in springtime, especially as May and Memorial Weekend bring the start of tourism season. With the Valley in full bloom, warm weather becoming more and more common and incredible views in every direction, wine country is the perfect place to soak up the long-awaited sun. During the holiday weekend, many wineries are offering activities beyond the tasting room, several of which are family-friendly and all of which are more fun with a glass of wine in hand.
One of the most timeless lawn games in the U.S. is Bocce ball, which visitors can play at Apolloni Vineyards. Bocce tests aim and distance perception, making it both challenging and relaxing—and, conveniently, it can easily be played with one hand holding a beverage. Meanwhile, Domaine Divio and Utopia Vineyards will offer the French answer: Pétanque. With essentially the same court and rules as Bocce, Pétanque, which originated in Provence, uses stainless steel balls that are a bit smaller and heavier than Bocce balls.
"Pétanque is the French version of Bocce ball," explains Domaine Divio co-owner and winemaker Bruno Corneaux, a Burgundy native, adding, "actually, I think the Italians stole it from us."
Alfredo Apolloni (pictured), who grew up in a winemaking family in Italy before founding Apolloni Vineyards, has a slightly different take on Bocce's history. "The early Romans were among the first to play a game resembling what we know as Bocce today," he explains. "Beginning with Emperor Augustus, Bocce became the sport of statesman and rulers. The Romans introduced the game to far-away countries in Europe such as France, along with viticulture."
Like debates about their provenance, lawn games can work up an appetite; in addition to the many wineries serving appetizers or snacks this spring, several have picnic space available for those bringing their own meal. Visitors to these wineries may bring a picnic lunch to enjoy with a bottle of wine on the grounds. Don't miss our guide to exploring wine country with kids for more ideas.
The wineries listed here have lawn games including bocce, pétanque and ladder toss on offer.