Cassoulet For Home Cooks And Armchair Travelers
Lange Estate Winery
Anyone who has indulged in Cassoulet will tell you that between the layers of duck fat and Armagnac sausages—confit duck legs and bone white Coco Tarbais beans—that there is pure magic. It is easily Gascony's most celebrated dish, named after the deep earthenware vessel it cooks in, the cassolle, Cassoulet inhabits a romantic place in our imaginations alongside the avant-garde posters of Henri de Toulouse-Lautrec, who hails from the region.
It has an enviable history, one that we will not attempt to reproduce here, but that can be read at leisure on Clifford A. Wright's excellent blog post on the topic.
There is, of course, an origin story about the besieged village of Castelnaudary pooling its meager resources during wartime, and the region's own reverence of the dish captured in a saying that translates as: "Cassoulet is the God of Occitan cuisine. A god in three persons: God, the father, is that of Castelnaudry. God the son is that of Carcassonne, and the Holy Spirit is that of Toulouse."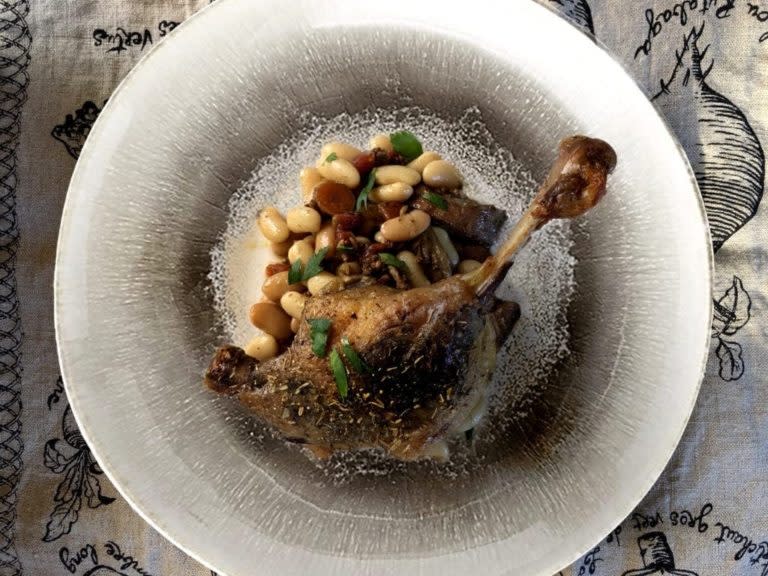 Learn more about Lange Estate Winery.
Divine it is. The process—the complete process, involves preparing the confit of duck well in advance. The method involves cooking the legs at a low temperature for a long period of time, what we affectionately call "low and slow", and then preserving the legs in the rendered fat. Prepared correctly, the legs will keep for weeks, or even over the winter. The method, as with many modes of food preservation, is one that allowed for long-term storage in a time before refrigeration. Fortunately, in the modern era, it's possible to obtain confit duck legs from your local grocer or butcher, or from online retailers like D'Artagnan. Added bonus, D'Artagnan carries most of the specialty ingredients you'll need.
Our goal, to faithfully reproduce the recipe, comes with the advice that one must check the cassoulet throughout the cooking process to ensure that it doesn't dry out. Don't be afraid to break through the crust to add more water if the beans are too dry. Preparing a proper bouquet garni is another step that's worth the time and effort. One cannot help but feel a sense of reverence for the process, the assembly, and enjoyment of this dish. 
Typically, cassoulet is paired a sturdy, well-structured wine such as a Côtes-du-Rhône or a Languedoc red. We paired ours with an elegant and earthy Pinot Noir from our North Block. Our Freedom Hill Pinot Noir also has the structure, depth, and body to stand up to the rich flavors of this dish. Recipe adapted from Chef Ariane Daguin. 
 
Ingredients
3 lbs pounds French Coco Tarbais beans (cannellini are a fine substitute) rinsed and soaked in water overnight
12 oz whole Ventrèche (French pancetta)
1 medium-sized head of garlic peeled
2 medium Spanish or yellow onions diced
1 carrot chopped into 1′ pieces 
1 Bouquet garni 5 parsley sprigs, 3 celery leaves, 2 thyme sprigs, 2 bay leaves, ten peppercorns, 3 cloves, and 3 juniper berries wrapped in cheesecloth and tied
6 Duck legs confit
1 lb pound Armagnac or Toulouse sausage cut into thirds
1 lb French garlic sausage cut into 1/4″ pieces
12 oz duck or veal demi-glace dissolved in 3 1/2 cups water
1/4 cup duck fat at room temperature
1 tbsp tomato paste
Instructions
Place beans in a large pot and cover them with water. Leave them to soak overnight at room temperature.

Drain beans then add them to a large stock pot along with the ventrèche, garlic, carrots, and bouquet garni. Cover the mixture with 3 inches of water and bring to a boil. Reduce the heat to low and simmer, uncovered, until the beans are just tender, about 1 hour. 

Drain the mixture and discard the bouquet garni. Remove ventrèche and cut it into 1/4-inch cubes and set it aside. Season beans with salt and pepper to taste. Set them aside.  

Preheat oven to 325 °F. 

In a medium skillet over high heat, sautée the Armagnac and French garlic sausages with a dollop of duck fat, until just browned. Remove from the pan, and set aside. 

Use some of the duck fat to lightly grease a large dutch oven or casserole. Place half of the bean mixture in casserole. Add duck legs, browned sausages, and ventrèche, and rizzle with duck fat. Cover with the remaining bean mixture.  

Stir tomato paste into demi-glace and water mixture, stir until its completely dissolved. Pour evenly over the beans, then add the remaining duck fat. 

Bake until hot and bubbling, about 2 1/2 hours, checking occasionally, this step is critical, to make sure the beans don't dry out. Add more water as needed.  

Serve piping hot with a generous glass of wine!